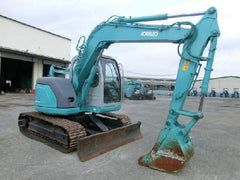 R02. 6 Tons Hydraulic Excavator Kobelco SK60SR-1ES YT01-01345 for Rental with Hydraulic Piping and Load Indicator(ArmCrane) In Singapore
Kobelco Hydraulic Excavator SK60SR-1ES YT01-01345 with Hydraulic Piping or Load Indicator for Rental or Lease by Day or Monthly In Singapore.
**Call us to inquire on PROMO RATES at +65 6365-1818 or email us at "info@plsmachinery.com"
PRICES
SGD $150 / Day (Standard with Bucket Only)
SGD $160 / Day (Standard with Bucket and Load Indicator, LM Certificate)
SGD $280 / Day (Standard with Bucket and Hydraulic Breaker Only)
SGD $2,800 / Month (Standard with Bucket Only)
SGD $3,200 / Month (Standard with Bucket and Load Indicator, LM Certificate)
SGD $4,800 / Month (Standard with Bucket and Hydraulic Breaker Only)
**Hydraulic Piping and Breaker subject to availability upon request.
**Load Indicator or Arm Crane originally fitted from Japan available upon
request.
**Rubber Pads available upon request.
Please call OUR SALES +65 6365 1818 or email us at "info@plsmachinery.com" for more information.

PLS MACHINERY PTE LTD (SINGAPORE)